Bar Inventory in 15 Minutes on iOS
Our customers save $1,200 to $5,000 a month
---
"Partender's cutting-edge inventory system saves $3000 each month on labor and on loss reduction like over-pouring. It's so simple - the second people see it, they love it."
"Partender's labor savings paid for the 12-mo subscription in under 2 months. Even better, the ability to cut dead stock and promote specials has helped us make much more revenue."
"Partender has revolutionized the process of inventory tracking and provides an advance in restaurant technology that has not been seen since the digital point of sale system."
---
How bar inventory works with Partender
Set up your virtual bar in Partender
One-time setup process
Add bottles in the order you see them
Split up the work on multiple devices
Use iPhone, iPod Touch, or iPad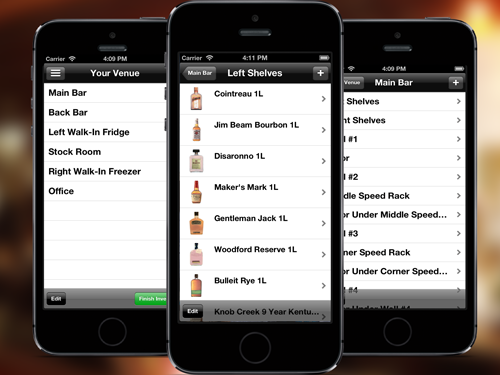 Do Inventory on any iOS device in minutes with up to 99.2% accuracy
1. Tap
Instead of guessing on a 10-point scale, just tap to wherever the liquor level is in the bottle in front of you.
2. Swipe
Tap the screen to set the liquid level, add any full bottles, then swipe to the right to get to the next bottle.
3. Done
When you hit "Finish," you'll instantly get your Purchase Order, which you can literally forward off to your distributors.
Log into your own online portal to see trends in your bar & download previous inventory reports
See what's selling the best and worst
Compare inventory in different areas of your establishment (e.g. Main Bar vs. Tiki Bar)
Swap brands out based on what's selling the best/worst (e.g. Belvedere vs. Greg Goose)
Download archive inventory sessions to see how past events impacted actual consumption
Specialty whiskey room or brewery? We got you covered - Partender's not standard liquor inventory software. Count & track anything.
Partender's flexible system lets you take partial and whole inventory counts of any food, drink, or other item - just take a picture:
In-house infusions & craft spirits
Kegs & CO2 tanks
Cigars & cigarettes
Sauces, salmon fillets
And any other item you have in your establishment
Are you a top-tier establishment? We even integrate with every point of sale, so you can reduce theft and beverage cost even faster.
The best establishments opt for our premium consulting service to get POS reconciliation, beverage cost calculation, and other exclusive access to Partender.